2012 | OriginalPaper | Buchkapitel
Transparency Computation for Work Groups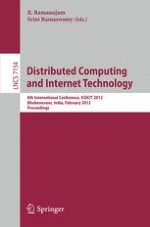 Erstes Kapitel lesen
Autor: A. B. Sagar
Verlag: Springer Berlin Heidelberg
Transparency is being considered an indispensable ingredient in social accountability and necessary for preserving and guaranteeing ethical and fair processes. Transparency is related to visibility of information, and without it, work groups and stakeholders will be left in blind states. The growing importance to the requirement of transparency in business domains is the motivation to the present work. This paper presents a framework for transparency in the work groups and also specifies outlines for its implementation. This model can be used in organizations whose structure resembles the work group structure defined in this paper. This model does not incur much overhead as it involves only message passing for evaluating transparency of the work groups over tasks. Present day technologies are at such advanced levels that message passing even from very remote areas is not considered too difficult. According to this model, transparency of a work group can be evaluated during and after completion of task execution. During execution, if the task executing work group has reported sufficient number of transparency messages as defined by the task initiator till that time, then it is adjudged to be transparent; and the same applies even after completion of the task. The model tracks the levels of transparency and the shift between the levels/degrees (opaque, translucent, transparent), by requiring the task initiator to define the levels of transparency and the associated number and types of transparency messages, and the transparency of the task executor is evaluated by comparing the reported transparency messages with the required transparency messages. This model is most relevant to the Self Help Groups which are widely prevalent in India (about 3.37 million as of April 2011). However, it is applicable to any work group which resembles a SHG. A work group implies two or more individuals who routinely function like a team, and interdependent in achievement of a common goal, and may or may not work next to one another or in the same department. This kind of work groups are ever present in business domains. They represent a part of a business or the business itself. Transparency implies visibility of information related to financial and non-financial matters of the work group and its stakeholders. In the context of a business where several levels of administration are present, directions of transparency may take four directions: upwards, downwards, inwards, and outwards.
Upwards transparency
is meant to describe a hierarchical principal actor situation where the subordinate actor's actions (or transactions) can be observed by the principal;
Downwards transparency
is the opposite of upwards, ie. when the principal can be observed by subordinate actors; Inwards transparency is the transparency to all the insiders of the work group and Outwards transparency is the transparency to all the outsiders of the work group. Financial reporting is tracking of monetary data and non-financial reporting is task's execution-status data.We can classify transparency into three degrees :
opaqueness, translucency and clarity
. Opaqueness is when a work group does not disclose any information to its stakeholders and hence a opaque work group is not a transparent work group. Translucency is when a work group discloses its information partially. Hence, a translucent work group still cannot be called a transparent work group. Clarity is when a work group discloses all of its information. Only the work group having clarity degree of transparency is the transparent work group. Each task (w) will have three phases viz. pre-activity, per-activity and post-activity and transparency is defined on these three phases. Interestingly, the degree of transparency is directly proportional to the phases of activity. Prior to the pre-activity phase, the degree of transparency is opaque (or
null
). If the transparency conditions are met in the pre-activity phase, the degree becomes translucent. If the transparency conditions are met at per-activity phase and post-activity phases, then the degree of transparency becomes clear. As it is observed that after each activity phase, the degree of transparency is increasing, it is of interest to us to define the primary constituents of each activity phase which affect the degree of transparency. At each activity phase we define the transparency dimensions that are required. Though transparency dimensions are taskand situation-dependent, the following dimensions are mandatory.
Recognition of responsibilities
and interdependencies are primarily of concern before the realization of a given activity (pre-activity).
Recognition of status and problems
are primarily related to transparency into an ongoing activity (per-activity). Similarly,
understanding of performance and feedback
are related to post-activity transparency. There are three main perspectives in Transparency:
static , dynamic and radical
. In Static Transparency, the flow of information is mainly unidirectional i.e. from the work group to stakeholders. In
Dynamic Transparency
the work gorup and its stakeholders can exchange, share and compare information and adapt its online behavior and electronic requests and queries to the answers and reactions of respective counterparts.
Radical Transparency
refers to the capability of a firm's top management to employ internet-based technologies, such as rss, blogs and collaborative websites, in order to create a direct and continuous dialogue with customers and other stakeholders. Implementation of transparency in such a work group can be made using Member Behavior Model [MBM] and Task Execution Cycle [TEC]. MBM outlines the behavior of every member in a work group and also of the work group. MBM provides an imprint of generic behavior of each member ( or work group) and TEC gives the different states of an executing task. Relation between MBM and TEC is that TEC is an integral part of ExTsk of the MBM. Transparency metric quantifies the levels of transparency of the work group or a member based on the transparency messages. Each transparency message can also be provided with a value corresponding to its priority. Thus, depending on the number of messages and the values associated with the messages, transparency can be computed. Since each activity has three phases i.e. pre, per and post , the transparency is a sum of transparencies of these three phases. Thus the present paper successfully
defines
and outlines
implementation
of Transparency.