Erschienen in: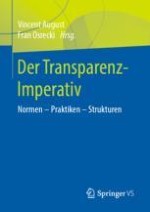 2019 | OriginalPaper | Buchkapitel
Transparency Imperatives: Results and Frontiers of Social Science Research
Abstract
In Western societies, transparency has become an imperative and almost unquestionable norm. In this opening chapter, we provide an overview of social scientific debates about transparency. First, we trace the idea of transparency historically in order to contextualize past and present transparency imperatives. We start with the utilitarian tradition initiated by Jeremy Bentham and argue that transparency employs a mechanism of surveillance, formalization, and standardization that is supposed to transform insecurities into security and efficiency. This modernist legacy reaches into contemporary visions of transparency, for instance in institutional economics, new public management, or in current debates on big data. In a second step, we discuss the unintended consequences of these recent transparency imperatives. Based on a literature review, we show that transparency often does not achieve its self-proclaimed goals, as its rationale and practices produce unintended structural effects, such as organizational inefficiency, massive bureaucratization, and even intransparency. Building on these results, we propose a comparative approach for future social scientific research on transparency, outlining new frontiers and topics. We will refer to the articles collected in this book throughout the chapter and close with some remarks on the general structure of this anthology that combines contributions from sociology, political science, and anthropology and highlights the variety and ubiquity of transparency imperatives.