01.02.2020 | Research Article | Ausgabe 2/2020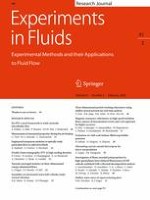 Transport and dispersion of particle-Laden streaks in a standardized human nasal geometry
Zeitschrift:
Autoren:

Daniel D. Borup, Lindsey E. Engel, Christopher J. Elkins, John K. Eaton
Wichtige Hinweise
Publisher's Note
Springer Nature remains neutral with regard to jurisdictional claims in published maps and institutional affiliations.
Abstract
Microparticle transport in the human airway is an important problem with major implications for global healthcare. However, nasal cavity flows are not well understood due to morphological variations and the difficulty of acquiring data in realistic geometries. Magnetic resonance imaging (MRI) was used to obtain the 3D, three-component mean velocity field for flow through a scale replica of the Carleton-Civic standardized nasal geometry (Liu et al. in J Appl Physiol 106(3):784–795, 2009). Velocity measurements at two flow rates (representative of steady inhalation at 15 and 30 L/min) reveal the presence of a strong swirling flow structure in the nostril, stagnant or weakly reversed flow in the lower meatus, and a separation region at the top of the nasopharynx. The measurements suggest a transitional or weakly turbulent flow regime. A recently developed MRI-based technique was used to measure the 3D mean particle concentration distribution for two particle-laden streaks introduced near the nostril opening. The particles were representative of 0.75 micron dust-like particles inhaled at 30 L/min. The streak injected near the nostril base remained confined to the lower portion of the nasal cavity, while the streak injected near the tip was dispersed across most of the passage cross-section past the nasal valve. Mixing occurred most rapidly in the nostril and in the nasopharynx. The results suggest that some level of drug targeting in the nasal cavity may be achievable by choosing the introduction site at the nostril opening.
Graphic abstract
×