2016 | OriginalPaper | Buchkapitel
4. Transportation and Sustainability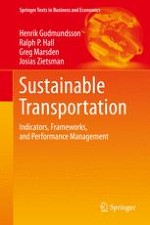 Erstes Kapitel lesen
Autoren: Henrik Gudmundsson, Ralph P. Hall, Greg Marsden, Josias Zietsman
Verlag: Springer Berlin Heidelberg
Abstract
As discussed in Chap.
3
, the transportation system is often envisioned as the engine of development. It is seen as the backbone of the twentieth century's economic and social progress and is the means by which humans access goods and services and connect to communities. Yet, it is also a major contributor to environmental degradation and community disruption, which is often inequitably distributed. The falling costs and increasing efficiency of the transportation system have enabled the emergence of the throughput society (see Sect.
2.​3
). The ease with which materials and goods can be moved within and between nations has transformed the structure of national economies, enabling connectivity across the world. This process is further enhanced by the global emergence of information and communication technology (ICT). The complexity unleashed by the integration of regional and national economies means that tracing who or what is responsible for negative externalities is not a simple question to ask or answer. With the possibility of two billion vehicles on the horizon (Sperling and Gordon 2010) and growing mobility trends around the world, the challenges presented by transportation are likely to command public attention for the foreseeable future.