Erschienen in: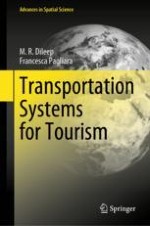 2023 | OriginalPaper | Buchkapitel
1. Transportation Systems and Tourism
Abstract
The term "transportation system" is usually referred to the equipment and logistics of transporting passengers and goods. It covers the trips by all means of transport, from cars and buses to boats, aircraft, and even space travel. The objective of a transportation system is to coordinate the movement of people, goods, and vehicles in order to use routes most efficiently. When implemented, transportation systems seek to reduce transport costs and improve delivery times through effective timetabling and route management. Periodic re-evaluations and the development of alternative routes allow for timely changes to the transportation system for increasing the efficiency.