01.06.2017 | Ausgabe 6/2017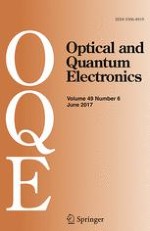 Transverse structure optimization of distributed feedback and distributed Bragg reflector lasers with surface gratings
Zeitschrift:
Autoren:

Topi Uusitalo, Heikki Virtanen, Mihail Dumitrescu
Wichtige Hinweise
The research has been done within the European Space Agency ESA project Submegahertz Linewidth Laser for Fundamental Physics Missions (Contract No. 4000110645/13/NL/HB).
This article is part of the Topical Collection on Numerical Simulation of Optoelectronic Devices 2016.
Guest Edited by Yuh-Renn Wu, Weida Hu, Slawomir Sujecki, Silvano Donati, Matthias Auf der Maur and Mohamed Swillam.
Abstract
Two figures of merit for single transverse mode operation and an accurate procedure for calculating the coupling coefficient in distributed feedback lasers with laterally-coupled ridge-waveguide surface grating structures and in distributed Bragg reflector lasers with etched-through-ridge-waveguide surface gratings are introduced. Based on the difference in optical confinement between the pumped and un-pumped regions in the transverse plane, the single transverse mode operation figures of merit are effective and easy to calculate, while the improved coupling coefficient calculation procedure gives experimentally confirmed better results than the conventional calculation approaches, particularly for surface gratings with variable refractive index in the grating areas.