2017 | OriginalPaper | Buchkapitel
2. Traveling Across Latin America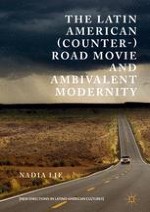 Erstes Kapitel lesen
Autor: Nadia Lie
Abstract
Journeys across Latin America inevitably engage with the history of the Conquest (1492), often presented as modernity's dramatic entrance into Latin America. These "continental road movies" present a counter-conquest dimension through references to the disappeared (or marginalized) indigenous communities. At the same time, they participate in early modernity's sense of discovery and exploration. Both ideas converge in the centrality of the road as a space of encounter with "the other." The chapter examines how this space is articulated in three films, corresponding to three narrative models: the exploration (W. Salles,
Diarios de motocicleta
2004), the search (F. Solanas,
El viaje
1994), and the flight (J. Meerapfel,
Amigomío
1995). The readings show that continental journeys either construct or deconstruct a sense of transnational unity.