12.06.2017 | Originalarbeit | Ausgabe 7/2017 Open Access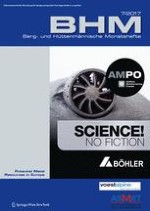 Treatment of Residues from the Copper Industry with an Alternative Approach for Electric Furnace Slag
Zeitschrift:
Autoren:

Stephan R. Steinacker, Juergen Antrekowitsch
Abstract
Today's copper industry sees itself confronted with a variety of different residues and by-products. This situation can be explained by the decreasing content of copper in the primary ore concentrate and the multitude of further downstream processes and applications. This work aims at giving an overview of the different residues that derive from the primary as well as the secondary copper industry and highlights the potential in eastern and southeastern Europe. The core part of this article describes different recycling and recovery methods, which can be split into two main categories. The direct treatment generally consists of a remelting step which builds on a detailed chemical analysis and aims at the preservation of the contained alloying elements. In contrast to the direct option, the conventional recycling consists of several process steps which gradually increase the purity and quality of the material.
The description of a new approach for the treatment of electric furnace slag concludes the considerations concerning the different residues. While the introduction of primary copper smelting slag into an electric furnace displays a commonly applied procedure which leads to a marketable product, legislative as well as environmental restrictions may restrict this opportunity in the near future. As a result, a pyrometallurgical approach that uses pig iron as a reducing agent aims at lowering the contained heavy metal content in the slag and hence at guaranteeing the required marketability.