2010 | OriginalPaper | Buchkapitel
24. Treatment Techniques and Analysis of Stormwater Run-off from Roads in Hamburg, Germany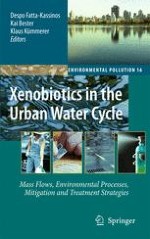 Erstes Kapitel lesen
Autoren: Burkhard Stachel, Jens-Uwe Holthuis, Wolfgang Schulz, Wolfram Seitz, Walter H. Weber, Klaus-Thorsten Tegge, Ingo Dobner
Verlag: Springer Netherlands
Abstract
The treatment of stormwater constitutes an integral part of precipitation water management in Germany. This finds its expression in a variety of treatment concepts which in turn form the basis for technological solutions to meet current demands concerning water quality. In this respect the requirements of the Water Framework Directive (2000/60/EU, WFD) continue to play a central role and provide a basis for discussion leading to further innovative solutions. In order to fulfil these requirements, major investments are necessary. In view of the high costs involved in the construction and maintenance of treatment plants, a key factor may be seen in the development of techniques for measuring their clearing efficiency.
Analysis of highway stormwater run-off has revealed the existence of priority substances as defined in Annex X of the WFD. The concentrations of heavy metals, metalloids, PAHs and benzothiazoles were determined in run-off water as well as in seepage water originating from a plant covered soil filter in the vicinity of a nature protection area from Hamburg. In addition, stormwater treatment plants located in a water protection area were investigated. The analysis of soil samples obtained from three of these filters showed a slight accumulation of Cu, Pb, Zn, Pt, and PAHs in each case in the upper soil horizon.
A test filter with modified adsorbent composition and mycorrhizal vegetation was installed in the plant stocked filter. The results show a high degree of retardation efficiency for metals and non-polar substances, but less for the polar ­compounds such as benzothiazoles and benzotriazoles.