01.06.2015 | Original Paper | Ausgabe 6/2015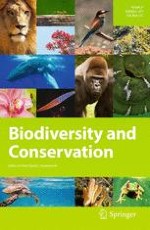 Tree community composition and vegetation structure predict butterfly community recovery in a restored Afrotropical rain forest
Zeitschrift:
Autoren:

Margaret Nyafwono, Anu Valtonen, Philip Nyeko, Arthur Arnold Owiny, Heikki Roininen
Wichtige Hinweise
Communicated by Peter J. T. White.
Abstract
Anthropogenic disturbances have led to a dramatic loss of biodiversity in the tropics. Habitat restoration can mitigate biodiversity loss but studies describing insect community recovery during tropical forest restoration are limited in Africa. Our aim was to compare the predictive power of tree community composition versus vegetation structure for butterfly community composition during tropical rain forest restoration. A fruit-feeding butterfly dataset from two primary and six restored forest areas of Kibale National Park (Uganda) was used. At the same sites, the tree community composition and six variables describing the vegetation structure, namely; (1) total stem density per hectare; (2) tree canopy cover; (3) elephant grass cover; (4) "other grass" cover; (5) shrub cover; and (6) herb cover, were sampled. Co-correspondence analysis and canonical correspondence analysis were used to predict butterfly community composition from tree community composition or vegetation structure, respectively. Both tree community composition and vegetation structure predicted butterfly community equally well. We also found a corresponding successional gradient of butterfly and tree communities, associated with the age of the forest since restoration started. Most butterfly species had their peak abundance (optima) in the late successional or primary forests, while most tree species had their optima in primary forests. Elephant grass cover and tree canopy cover were the most important predictors of the butterfly community composition. Our results demonstrate how tropical forest restoration can ignite successional changes in tree communities and vegetation structure, which in turn restructure the animal communities, according to resource availability and species-specific habitat requirements.