2015 | OriginalPaper | Buchkapitel
15. Tree Integration in Banana-Based Cropping Systems: A Case Study of Jinja, Uganda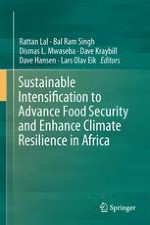 Erstes Kapitel lesen
Autor: Ph.D. Lukman Nagaya Mulumba
Abstract
Bananas are a major staple crop and a source of livelihood for over seven million people in Uganda. However, productivity in many parts of the country has been declining over the past few years owing to low soil fertility as a result of nutrient mining among other causes. This has a negative effect on both household income and food security. Actual yields range from 10 to 25 Mg/ha/year compared to a potential yield of 70 Mg/ha. A study was conducted to assess the benefits and limitations of integrating trees in banana-based (
Musa
spp.) cropping systems in Uganda; 53 % of the farmers attributed the low yields to soil fertility decline, 25 % high fertilizer prices, and 49 % low availability of fertilizers.
The incorporation of coffee and
Ficus
trees in banana plantations was found to have several beneficial effects. The N content under the tree canopy (1,624 kg/ha) was significantly higher than outside the canopy (877 kg/ha) in the top soil. Similarly, the organic matter levels were found to be higher when trees were incorporated in the cropping systems. This was attributed to the high organic C levels under the tree crown (23.2 g/kg) compared to 16.2 g/kg outside the crown.
Ficus
was found to have other beneficial effects. According to 85 % of respondents, these included its use as fodder. The shading effects of the trees helped to modify soil temperatures, which were found to be beneficial in the dry season.
Ficus
trees also provided shade for coffee trees hence modifying the microclimate. However, optimal spacing between the trees and the bananas needs to be determined in order to avoid unnecessary competition for nutrients and water.
This paper also discusses other shortcomings of the current land development strategies and identifies potential research needs. The active participation of the farmer in banana-based research is also highlighted for the sustainable use of the land resource.