2018 | OriginalPaper | Buchkapitel
Tree
t

-Spanners of a Graph: Minimizing Maximum Distances Efficiently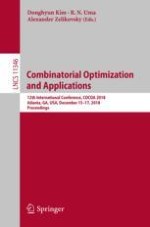 Erstes Kapitel lesen
Autoren: Fernanda Couto, Luís Felipe I. Cunha
Abstract
A tree
t
-spanner of a graph
G
is a spanning subtree
T
in which the distance between any two adjacent vertices of
G
is at most
t
. The smallest
t
for which
G
has a tree
t
-spanner is the tree stretch index. The problem of determining the tree stretch index has been studied by: establishing lower and upper bounds, based, for instance, on the girth value and on the minimum diameter spanning tree problem, respectively; and presenting some classes for which
t
is a tight value. Moreover, in 1995, the computational complexities of determining whether
\(t = 2\)
or
\(t \ge 4\)
were settled to be polynomially time solvable and NP-complete, respectively, while deciding if
\(t = 3\)
still remains an open problem.
With respect to the computational complexity aspect of this problem, we present an inconsistence on the sufficient condition of tree 2-spanner admissible graphs. Moreover, while dealing with operations in graphs, we provide optimum tree
t
-spanners for 2 cycle-power graphs and for prism graphs, which are obtained from 2 cycle-power graphs after removing a perfect matching. Specifically, the stretch indexes for both classes are far from their girth's natural lower bounds, and surprisingly, the parameter does not change after such a matching removal. We also present efficient strategies to obtain optimum tree
t
-spanners considering threshold graphs, split graphs, and generalized octahedral graphs. With this last result in addition to vertices addition operations and the tree decomposition of a cograph, we are able to present the stretch index for cographs.