01.04.2014 | Ausgabe 4/2014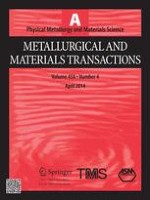 Tribological Behavior of A356/Al2O3 Surface Nanocomposite Prepared by Friction Stir Processing
Zeitschrift:
Autoren:

Y. Mazaheri, F. Karimzadeh, M. H. Enayati
Wichtige Hinweise
Manuscript submitted July 3, 2013.
Abstract
Surface A356 aluminum alloy matrix composites containing micro and nanosized Al2O3 are prepared by a new approach utilizing high-velocity oxy-fuel spraying and friction stir processing (FSP). Optical and scanning electron microscopy, microhardness, and wear tests were used to characterize the surface composites. Results indicated that, the presence of Al2O3 in matrix can improve the mechanical properties of specimens. The microhardness of surface composites containing micro and nanosized Al2O3 were 89.8 ± 2.6 HV and 109.7 ± 2.5 HV, respectively, which were higher than those for the as-received (79.6 ± 1.1 HV) and the FSPed A356-T6 with no alumina powder (66.8 ± 0.9 HV). Surface composites revealed low friction coefficients and wear rates, which were significantly lower than those obtained for substrate. The wear mass losses of the as-received, the FSPed, and surface micro and nanocomposite specimens after 500-m sliding distance were 50.5, 55.6, 31, and 17.2 mg, respectively. Scanning electron microscopy tests revealed different wear mechanisms on the surface of the wear test specimens.