31.08.2018 | Ausgabe 10/2018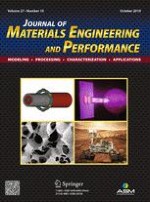 Tribological Behavior of Pulsed Electrodeposited Ni-W/SiC Nanocomposites
Zeitschrift:
Autoren:

Nitin P. Wasekar, Lavakumar Bathini, G. Sundararajan
Wichtige Hinweise
This article is an invited paper selected from presentations at "AeroMat 2017," held April 10-12, 2017, in Charleston, South Carolina, and has been expanded from the original presentation.
Abstract
Ni-14 at.% W/SiC nanocomposite coatings containing 0-6 vol.% of submicron size (0.35 μm) SiC particles were obtained using pulsed electrodeposition technique on mild steel substrate. The coatings were subsequently characterized for uniformity of SiC distribution, grain size and mechanical properties (hardness and elastic modulus) using SEM, XRD and nanoindentation techniques, respectively. It was observed that the SiC particulates were uniformly distributed within the coating. The coating matrix (Ni-W) also exhibited nanograin size. Tribological behavior of Ni-14 W/SiC nanocomposite was analyzed under dry sliding wear test conditions using pin on disk method. The interrelationship between SiC content, interparticle spacing, mechanical properties and wear behavior was analyzed. The results suggest that whereas hardness and modulus of nanocomposite coatings varied with SiC content as per Rule of Mixtures, wear mechanism can be best explained on the basis of Inverse Rule of Mixtures.