2018 | OriginalPaper | Buchkapitel
Trickier XBWT Tricks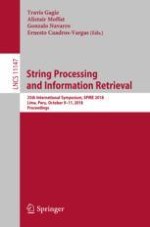 Erstes Kapitel lesen
Autoren: Enno Ohlebusch, Stefan Stauß, Uwe Baier
Abstract
A trie [
11
] is one of the best data structures for implementing and searching a dictionary. However, to build the trie structure for larger collections of strings takes up a lot of memory. Since the eXtended Burrows-Wheeler Transform (XBWT) [
8
,
9
] is able to compactly represent a labeled tree, it can naturally be used to succinctly represent a trie. The XBWT also supports navigational operations on the trie, but it does not support failure links. For example, the Aho-Corasick algorithm [
1
] for simultaneously searching for several patterns in a text achieves its good worst-case time complexity only with the aid of failure links. Manzini [
18
] showed that a balanced parentheses sequence
P
can be used to support failure links in constant time with only
\(2n+o(n)\)
bits of space, where
n
is the number of internal nodes in the trie. Besides practical algorithms that construct the XBWT, he also provided two different algorithms that construct
P
. In this paper, we suggest an alternative way for constructing
P
that outperforms the previous algorithms.