01.08.2016 | Ausgabe 8/2016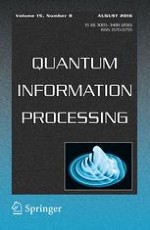 Tripartite entanglement dynamics in the presence of Markovian or non-Markovian environment
Zeitschrift:
Autor:

DaeKil Park
Abstract
We study on the tripartite entanglement dynamics when each party is initially entangled with other parties, but they locally interact with their own Markovian or non-Markovian environment. First we consider three GHZ-type initial states, all of which have GHZ-symmetry provided that the parameters are chosen appropriately. However, this symmetry is broken due to the effect of environment. The corresponding
\(\pi \)
-tangles, one of the tripartite entanglement measures, are analytically computed at arbitrary time. For Markovian case while the tripartite entanglement for type I exhibits an entanglement sudden death, the dynamics for the remaining cases decays normally in time with the half-life rule. For non-Markovian case the revival phenomenon of entanglement occurs after complete disappearance of entanglement. We also consider two
W
-type initial states. For both cases the
\(\pi \)
-tangles are analytically derived. The revival phenomenon also occurs in this case. On the analytical ground the robustness or fragility issue against the effect of environment is examined for both GHZ-type and
W
-type initial states.