26.06.2019 | Ausgabe 14/2019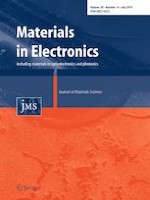 Tunable microwave absorbing property of LaxFeO3/C by introducing A-site cation deficiency
Autoren:

Zhenguo Gao, Zirui Jia, Jiaoqiang Zhang, Ailing Feng, Zhengyong Huang, Guanglei Wu
Wichtige Hinweise
Zhenguo Gao and Zirui Jia have contributed equally to this work.
Publisher's Note
Springer Nature remains neutral with regard to jurisdictional claims in published maps and institutional affiliations.
Abstract
A novel two-dimensional electromagnetic (EM) absorbers which consist of LaFeO3 nanoparticles embedded on hierarchical amorphous carbon nanosheets were fabricated by a simple one-pot method. By inducing A-site cation deficiency in LaFeO3 perovskite, the properties of EM absorption were optimized due to the polarization of dipoles between O vacancy and Fe4+. This research is expectant to provide a new strategy for the improved EM absorption performance by inducing the A-site cation deficiency in perovskite crystal lattices. By the magnetic ferrite nanoparticles doped in the dielectric carbon sheets, we got the best La0.8FeO3−y/C possessing larger absorption bandwidth 5.4 GHz from 12.6 to 18.0 GHz and minimum reflection loss of − 20.4 dB while La0.6FeO3−y/C which hit the minimum RL value − 25.0 dB at 14.8 GHz with the thickness of 3.75 mm.