04.11.2016 | Ausgabe 1/2017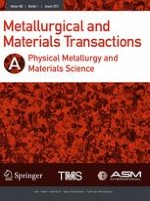 Tungsten Micropowder/Copper Nanoparticle Core/Shell-Structured Composite Powder Synthesized by Inductively Coupled Thermal Plasma Process
Zeitschrift:
Autoren:

Kyou-Hyun Kim, Hanshin Choi, Chulwoong Han
Wichtige Hinweise
Kyou-Hyun Kim and Hanshin Choi contributed equally to this work.
Manuscript submitted April 20, 2016.
Abstract
We here synthesized a Cu nanoparticle-coated W micropowder using
in-situ
reactive radio frequency thermal plasma with a blended feedstock of tungsten (W) and copper oxide micropowder. The spherical W micropowder improves the packing density and uniformity of the compacted body. On the other hand, the Cu nanoparticles coated on the W micropowder allow the spherical W powders to be compacted by rigid-die compaction only at 400 MPa. Moreover, homogeneous sintering in both solid state and liquid state occurs even at low Cu contents of 5 wt pct due to the uniformly coated Cu nanoparticles. The effect of W/Cu core/shell structure on the physical properties of sintered W-5 wt pct Cu composite is investigated based on the density, resistivity, and hardness. The results show that homogeneously sintered W-5 wt pct Cu composite well agree with the theoretical values calculated from the rule of mixture.