01.09.2012 | Special Issue | Ausgabe 3/2012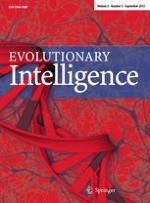 Tuning and evolution of support vector kernels
Zeitschrift:
Autoren:

Patrick Koch, Bernd Bischl, Oliver Flasch, Thomas Bartz-Beielstein, Claus Weihs, Wolfgang Konen
Wichtige Hinweise
First, second and third author contributed equally
Abstract
Kernel-based methods like Support Vector Machines (SVM) have been established as powerful techniques in machine learning. The idea of SVM is to perform a mapping from the input space to a higher-dimensional feature space using a kernel function, so that a linear learning algorithm can be employed. However, the burden of choosing the appropriate kernel function is usually left to the user. It can easily be shown that the accuracy of the learned model highly depends on the chosen kernel function and its parameters, especially for complex tasks. In order to obtain a good classification or regression model, an appropriate kernel function in combination with optimized pre- and post-processed data must be used. To circumvent these obstacles, we present two solutions for optimizing kernel functions: (a) automated hyperparameter tuning of kernel functions combined with an optimization of pre- and post-processing options by Sequential Parameter Optimization (SPO) and (b) evolving new kernel functions by Genetic Programming (GP). We review modern techniques for both approaches, comparing their different strengths and weaknesses. We apply tuning to SVM kernels for both regression and classification. Automatic hyperparameter tuning of standard kernels and pre- and post-processing options always yielded to systems with excellent prediction accuracy on the considered problems. Especially SPO-tuned kernels lead to much better results than all other tested tuning approaches. Regarding GP-based kernel evolution, our method rediscovered multiple standard kernels, but no significant improvements over standard kernels were obtained.