2019 | OriginalPaper | Buchkapitel
4. Tunisia's Political Health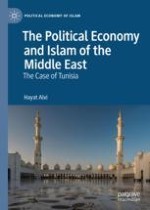 Erstes Kapitel lesen
Autor: Hayat Alvi
Abstract
This chapter examines the "political" side of the political-economy equation. The pre- and post-revolution political variables are presented and brought up-to-date. In political economy, politics and economics are interdependent. The main focus of this chapter is on Tunisia's political health and processes following the 2011 Jasmine Revolution. Some aspects of the other regional actors' politics are brought into the analysis where relevant for comparative purposes.
The essence of Tunisia's post-revolution political process is democratic evolution; to describe it more aptly,
evolution after revolution
. After the 2011 revolution expelled Ben Ali, the political processes for the evolving democracy have involved difficult negotiations among disputing parties, groups, and civil society; the challenging process of preparing the country for the first ever democratic elections; the seemingly impossible task of organizing a committee to revise the constitution; and all the while maintaining stability and security in the country during the most fragile and vulnerable stages of its post-revolution reformation, transitions, and political development. Tunisia's complex political developments and processes are explained.