01.01.2014 | Research Article | Ausgabe 1/2014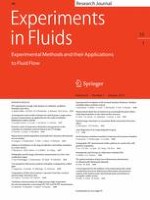 Turbulence characterization of a high-pressure high-temperature fan-stirred combustion vessel using LDV, PIV and TR-PIV measurements
Zeitschrift:
Autoren:

Bénédicte Galmiche, Nicolas Mazellier, Fabien Halter, Fabrice Foucher
Abstract
Standard particle imaging velocimetry (PIV), time-resolved particle imaging velocimetry (TR-PIV) and laser Doppler velocimetry (LDV) are complementary techniques used to measure the turbulence statistics in a fan-stirred combustion vessel. Since a solid knowledge of the aerodynamic characteristics of the turbulent flow will enable better analysis of the flame–turbulence interactions, the objective of this paper is to provide an accurate characterization of the turbulent flow inside the combustion vessel. This paper aims at becoming a reference for further work on turbulent premixed flames using this fan-stirred combustion vessel. Close approximations of homogeneous and isotropic turbulence are achieved using this setup. The integral length scales
L
, Taylor microscales
λ
and Kolmogorov length scales
η
, the rms velocity fluctuations and the energy spectra are investigated using PIV, TR-PIV and LDV techniques. The difficulty to reach an accurate estimation of the integral length scale is particularly examined. The strengths and limitations of these three techniques are highlighted. High temporally resolved and high spatially resolved PIV appears as an interesting alternative to LDV in so far as close attention is paid to the measurements resolution. Indeed, the largest scales of the flow are limited by the field size and the smallest ones may be not caught with high accuracy due to the limited spatial resolution. A low spatial resolution of the PIV measurements can also lead to an underestimation of the rms velocity fluctuations. As the vessel was designed to study turbulent combustion at high initial pressure and high initial temperature, the effects of the gas temperature and pressure on the energy spectra and the turbulent parameters are finally investigated in the last part of the paper.