01.12.2013 | Original Paper | Ausgabe 6/2013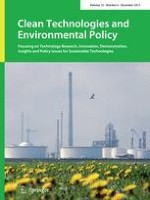 Turning
Laminaria

digitata

seaweed into a resource for sustainable and ecological removal of trivalent chromium ions from aqueous solutions
Zeitschrift:
Autoren:

Ingrid M. Dittert, Vítor J. P. Vilar, Eduardo A. B. da Silva, Selene M. A. Guelli U. de Souza, Antônio Augusto U. de Souza, Cidália M. S. Botelho, Rui A. R. Boaventura
Abstract
This study presents the application of a safe, cost effective, environmental friendly, and efficient technology for the removal of trivalent chromium ions from aqueous solutions, based on the valorisation of a renewable resource,
Laminaria digitata
seaweed. Insights into trivalent chromium speciation in solution and interaction with the active sites present in the surface of the brown algae were studied. Carboxyl and hydroxyl groups were identified as the major binding sites present in the surface of the biosorbent, in concentrations (
Q
max
) of 2.06 ± 0.01 and 1.4 ± 0.7 mmol g
−1
, and with proton binding parameters (
pK
) of 3.28 ± 0.01 and 11 ± 1, respectively. Trivalent chromium uptake at equilibrium conditions was well described at different acidic pH conditions and chromium concentrations, using a model which incorporates trivalent chromium hydrolysis reactions in the aqueous phase and its chemical interactions with the available active sites (carboxyl groups) present in the surface of biosorbent. The distribution profile of trivalent chromium species present in the solution as well as at the binding sites indicated that Cr
3+
and CrOH
2+
exhibit different affinities for the carboxyl groups present in the surface of the biomass according to the pH. A mass transfer kinetics model was applied to describe the kinetics at batch system, being possible to obtain the distribution of CrOH
2+
and Cr
3+
species in solution and at the binding sites.