03.04.2020 | Ausgabe 6/2020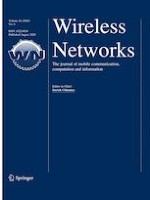 Two dimension angle of arrival-based precoding for pilot contamination reduction in multi-cell massive MIMO systems
Zeitschrift:
Autoren:

Ehab Ali, Mahamod Ismail, Nor Fadzilah Abdullah, Rosdiadee Nordin, Mohammed Balfaqih, Ibrahim Shglouf, M. H. Mazlan
Wichtige Hinweise
Publisher's Note
Springer Nature remains neutral with regard to jurisdictional claims in published maps and institutional affiliations.
Abstract
This paper proposes a new precoding approach that utilizes two-dimension (2D) Angle of Arrival (AOA) based precoding (beamforming) approach for multi-cell massive Multiple Input Multiple Output (m-MIMO) systems. The proposed approach enhances the performance of m-MIMO systems by overcoming pilot contamination that is caused by corrupted Channel State Information. It exploits the spatial properties of the propagated signals to distinguish between various users in the multi-cell m-MIMO system and selects the partial space for beamforming based on AOA information to suppress inter-cell and intra-cell interference. We mathematically analyze the impact of pilot contamination in the uplink training and determine the closed-form approximation of uplink Minimum Mean Square Error (MMSE) estimator. By using MMSE estimator as well as 2D AOA and channel estimation, a corresponding MMSE precoding which minimizes the effect of pilot contamination and improves the downlink achievable rate of the system is proposed. Furthermore, a comparison is made of the resolution between the various 2D AOA estimations for an m-MIMO and the optimum values closest bound for the proposed precoding was chosen to reduce pilot contamination. The performance of the proposed MMSE precoding based on 2D AOA estimation methods: 2D Unitary Estimation of Signal Parameters via Rotational Invariance Techniques (2D UESPRIT), 2D Fourier Domain Line Search MUSIC (2D FDLSM), and 2D Propagator Method (2D PM)) were evaluated and compared with pilot contaminated system and deterministic MMSE precoding in terms of their respective achievable rate. Simulation results reveal that the achievable sum rate gains of 2D UESPRIT, 2D FDLSM, and 2D PM based precoding which achieved 97.6%, 92.4%, 86.3% of the desired deterministic performance, respectively, compared to pilot contaminated system, which achieved only 90% even when in the best case of having only one contaminated user out of all users within the activated cell. Findings from our research indicate the feasibility of utilizing the AOA based beamforming to reduce pilot contamination effect that is inherent in a larger order m-MIMO system for the Fifth Generation (5G) wireless transmissions.