01.06.2011 | Ausgabe 11/2011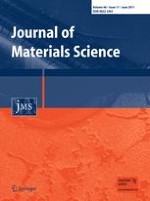 Two novel propylenedioxythiophene-based copolymers with donor–acceptor structures for organic solar cell materials
Zeitschrift:
Autoren:

Zheng Wang, Feng Tao, Long-yi Xi, Kai-ge Meng, Wei Zhang, Ying Li, Qing Jiang
Abstract
Two novel conjugated copolymers consisting of alternating electron-rich propylenedioxythiophene and electron-deficient 2,3-diphenyltheno[3,4-b]pyrazine or 6,7-diphenyl[1,2,5]thiadiazole units have been synthesized through palladium catalyzed Sonogashira triple-bond coupling reaction. The structures and properties of the two copolymers,
P
1
,
P
2
, were characterized by FT-IR, NMR, UV–Vis absorbance (Abs), thermal gravimetric analysis (TGA), differential scanning calorimetry (DSC), and cyclic voltammetry (CV). UV–Vis absorption spectra of the polymers show two absorption bands both in CHCl
3
solution and films. The absorption peak maxima of
P
1
,
P
2
are 600 nm, 766 nm in solution and 627 nm, 823 nm in films, respectively. Thermal gravimetric analysis demonstrates that the two polymers are stable below 300 °C. Cyclic voltammetry studies reveal that the band gaps of
P
1
,
P
2
are 1.62 eV and 1.50 eV, suggesting their potential for applications as organic solar cell materials.