11.12.2017 | Ausgabe 1/2019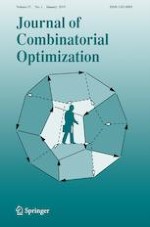 Two-stage medical supply chain scheduling with an assignable common due window and shelf life
Zeitschrift:
Autoren:

Long Zhang, Yuzhong Zhang, Qingguo Bai
Abstract
This paper considers a two-stage medical supply chain scheduling problem from the perspective of the medicine manufacturer in which jobs have an assignable common due window and shelf life. Each job will incur an early (tardy) penalty if it is early (tardy) with respect to the common due window under a given schedule. The job's holding time, which is the time interval that passes from the completion time of the job to the delivery date of the job in the batch, must be no more than its shelf life. The objective is to minimize the total cost comprising earliness, weighted number of tardy jobs, holding time, due window starting time, window size, and batch delivery. We first show that the problem is
NP
-hard and then provide a pseudo-polynomial-time algorithm. We also prove that a special case of the problem can be optimally solved in polynomial time.