02.07.2018 | Topical Collection: Superalloys and Their Applications | Ausgabe 9/2018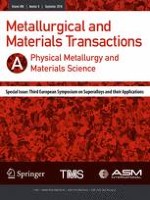 Two Steady-State Creep Stages in Co-Al-W-Base Single-Crystal Superalloys at 1273 K/137 MPa
Zeitschrift:
Autoren:

Song Lu, Stoichko Antonov, Longfei Li, Qiang Feng
Wichtige Hinweise
Manuscript submitted March 14, 2018.
Abstract
With the aim of understanding how to further improve the creep resistance of Co-Al-W-base superalloys at higher temperature (> 1223 K), the creep behavior of a novel Co-Al-W-base single-crystal superalloy at 1273 K/137 MPa was systematically investigated. Several interrupted creep tests were performed and the main deformation mechanisms of characteristic creep stages were identified and correlated to both the γ/γ′ microstructural and dislocation substructural evolutions. Two steady-state creep stages were observed during the creep process. The interfacial dislocations and the formation of rafts were responsible for the first steady-state creep stage, while the second steady-state creep stage could be ascribed to interactions between stacking faults of different slip systems in an inverted γ/γ′ microstructure,
e.g
., the formation of Lomer–Cottrell locks by the leading partials of the SFs. The observed creep mechanisms were compared to those typical of Ni-base superalloys at similar creep conditions. It is suggested that a high stacking fault energy of the γ′ phase and a higher γ′ volume fraction may be favorable for creep resistance of Co-Al-W-base single-crystal superalloys by promoting the double steady-state creep phenomenon.