09.04.2017 | Ausgabe 8/2018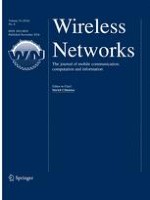 Two-tier dynamic load balancing in SDN-enabled Wi-Fi networks
Zeitschrift:
Autoren:

Ying-Dar Lin, Chih Chiang Wang, Yi-Jen Lu, Yuan-Cheng Lai, Hsi-Chang Yang
Abstract
This work proposes a Software Defined Networking (SDN) solution to address Wi-Fi congestion due to an unevenly distributed load among access points (APs). The conventional methods generally let client stations learn of APs' load status and select APs distributively. However, such a client-driven approach lacks a global view to make precise load balancing decisions and may result in repeated changes in client-AP association. Although several studies proposed more efficient network-controlled methods to carry out Wi-Fi load balancing, some of them are distributed methods incurring excessive message exchange among
customized
APs, while the rest centralized methods are found to burden the central controller with unnecessary AP association decisions. In contrast, our solution adopts standardized OpenFlow protocol and SDN controller technology to Wi-Fi networks, organizing the SDN controller and the APs into a two-tier architecture so that the controller can evaluate the degree of load balancing among the APs and decide up to which load level the APs can accept association requests without consulting the controller. From our experiment results, our solution improves Wi-Fi's load balancing degree by 34–41%, and yields an improvement of 28–36% in Wi-Fi's re-association time over generic centralized load balancing methods with positive control.