01.09.2014 | Ausgabe 5/2014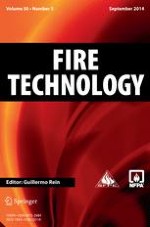 Typification of Fires in Buildings in Spain
Zeitschrift:
Autoren:

Pablo Boj-García, Juan Carlos Rubio-Romero
Abstract
Although the
Dirección de General de Protección Civil
(DGPC), an agency of the Spanish government, has been responsible for the collection of data and the statistical analysis of fires since 1985, it has not as yet issued any reports. It is true that a couple of studies have been made, but in neither case did they use a standardized methodology but relied simply on the heterogeneous information provided by the fire brigades which cooperated in the studies. At that time Spanish fire brigades did not have special units for professional fire investigation, nor was the information derived from standardized methodologies suited to research purposes. In addition, information was extremely scarce and basic, focussed only on the fire, the use of the building and personal data of the victims. In this context, the project for a Fire Investigation Unit in the Fire Brigade of Málaga (the sixth largest Spanish province in inhabitants) was set up. Although inspired in the methodologies used in the USA and in the UK, the aim was to create a customized methodology for the first scientific investigation of fires in Spain. Our research was conducted in 2007. Using the methodologies of the USA and the UK, our own methodological approach and the Spanish regulations, we drew up a questionnaire with 110 variables arranged into 6 modules. We studied 96 fires out of the 154 emergency fire calls received in 2007, having omitted some emergency calls for various reasons. Our results revealed that it was necessary to generalize the installation of fire extinguishers in residential buildings, to train the general public in the use of these devices, to promote the use of fire and smoke detectors in residential buildings, to encourage the inspection and control of old electric installations and to monitor the new installations, to generalize the implementation of emergency and evacuation plans and to design new systems and materials for the cabinets where hand-held extinguishers are stored.