2014 | OriginalPaper | Buchkapitel
2. Ubiquitous Operations Research in Production Systems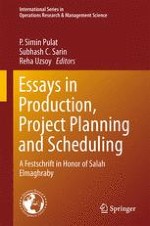 Erstes Kapitel lesen
Autor: Leon F. McGinnis
Verlag: Springer US
Abstract
Fifty years ago, young operations research (OR) professionals, like Dr. Salah Elmaghraby, were exploring the opportunities for using OR to better understand how to make critical decisions about the design and operation of complex production systems. Elmaghaby's seminal text,
The Design of Production Systems
, is an inimitable example of that exploration, combining deep knowledge of both the mathematical tools of OR and the application domain. Today, deployment of OR in production systems, by and large, continues to follow a pattern established by those early pioneers of the discipline—an OR expert (or team) studies the problem of interest and crafts a model to answer a specific question. The tools used, of course, have matured tremendously in the past 50 years, and contemporary computational capabilities allow the analysis of very large and complex systems. Yet the essential application process remains that of an artisan ("one who produces something (such as cheese or wine) in limited quantities often using traditional methods" (anonymous 2011a)). This chapter argues that it is time for the OR community to augment the artisanal approach by using technologies emerging in computer science to "industrialize" those OR applications in production systems that are well understood, creating a reusable platform for innovation that enables broader and deeper penetration of OR methods and tools in the support of production systems decision making.