25.07.2018 | Originalarbeit | Ausgabe 8/2018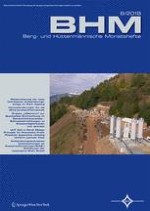 ULF Cell—a Novel Design Principle for Pneumatic Froth Flotation Apparatus Utilizing Uniform Laminar Flow
Zeitschrift:
Autoren:

Dipl.-Ing., Dr.-Ing., Janez Susa, Dipl.-Ing. Dr. mont. Rüdiger B. Richter
Wichtige Hinweise
The original version of this article was revised: The presentation of the figures 8–10 and the equations (23) and (33d) were incorrect. The correct versions are given below.
Abstract
ULF cell—a novel design principle for pneumatic froth flotation apparatus utilizing uniform laminar flow is presented in this paper and the key elements of this novel device such as the contact chamber, the hydraulic laminator register and the clarifying zone are described in detail. Since an understanding of the flow hydrodynamics within the various "zones" of a flotation apparatus is of significance for the technical performance and efficiency of the flotation process, the aspects of flow hydrodynamics of the contact chamber, hydraulic laminator register and clarifying zone, are illuminated. An approach for flow modelling is provided and a design review of the ULF cell was undertaken, where also the Krofta-Supracell 'net zero velocity principle' was compared to the Susa-ULF cell 'constant integral radial velocity principle'. Flotation experiments presented in this paper have proven that the ULF cell can be operated at a Reynolds number in the annular clarifying section of up to
Re
 ≈ 3000, which enables the apparatus to handle ultra-fine particles due to the quiescent laminarized flow. As a further result of the flotation tests performed it could be demonstrated that a flotation cell should not exceed a height of about 1 m in its separation/clarifying zone, which challenges the design of high flotation column apparatus coupled with a small diameter.