27.02.2018 | Chemical routes to materials | Ausgabe 11/2018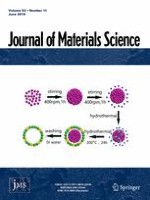 Ultrathin nanosheets-assembled CuO flowers for highly efficient electrocatalytic water oxidation
Zeitschrift:
Autoren:

Qianqian Zhou, Ting-Ting Li, Wei Xu, Hong-Lin Zhu, Yue-Qing Zheng
Wichtige Hinweise
Electronic supplementary material
Abstract
Integration of water oxidation catalysts on conductive support without polymer binder is an appealing strategy to improve the catalytic activity for electrochemical oxygen evolution reaction. Herein, the hierarchical CuO dandelion-like materials assembled from numerous ultrathin nanosheets are directly grown on Cu foil to produce a 3D oxygen evolution anode (CuO NSDs/CF). As a result of its integrated configuration and high electrocatalytic active sites, the anode exhibits superior electrocatalytic water oxidation activity in 1.0 M NaOH solution, associated with a small overpotential of 370 mV at 10 mA cm−2 and a low Tafel slope of 41 mV dec−1. Furthermore, the anode can maintain a relatively stable current density at 1.65 V versus RHE for at least 24 h, and a high Faradaic efficiency of 98% is also achieved.