24.11.2014 | Ausgabe 3/2017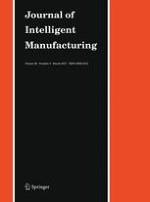 Uncertain programming model for uncertain minimum weight vertex covering problem
Zeitschrift:
Autoren:

Lin Chen, Jin Peng, Bo Zhang, Shengguo Li
Abstract
In this paper, the minimum weight vertex covering problem with uncertain vertex weights is investigated. By virtue of the uncertainty distribution operation of independent uncertain variables, the uncertainty distribution of the minimum weight of vertex cover is derived, and the concept of the
\(\alpha \)
-minimum cover among uncertain weight vertex covers is proposed within the framework of uncertain programming. Then an
\(\alpha \)
-minimum model for uncertain weight vertex covering problem is established and discussed. Taking advantage of some properties of uncertainty theory, the model can be transformed into the corresponding deterministic form. At last, a numerical example is presented to show the performance of the model.