2019 | OriginalPaper | Buchkapitel
Uncertainty in Environmental Water Quality Modelling: Where Do We Stand?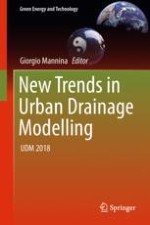 Erstes Kapitel lesen
Autoren: Anthony Jakeman, Barry Croke, Baihua Fu
Abstract
The physical and biochemical processes that underpin the generation and transport of water quality constituents are extremely complex, as are the social and institutional processes that determine how human activities impact the landscape. Any models attempting to represent these processes will therefore be fraught with huge overall uncertainty. It is incumbent on developers and users of water quality models to manage the sources of uncertainties and reduce the critical ones that affect the clarification of decisions. This paper documents ten sources of uncertainties and suggests nine ways in which uncertainty in a model might be handled. Model conceptualisation is a major source of uncertainty that is all too often not reported nor justified. Commonly used process-based models are often non-identifiable, thus issues concerning the selection of scales and detail of model representation need more rigorous treatment. While parameter fixing is often undertaken to address over-parameterisation, seldom do we see the increasing use of sensitivity and uncertainty analyses leading to model structure improvements. Formal methods of uncertainty analysis are hindered by the many required assumptions. One way around this is to utilise exploratory modelling to identify conditions and assumptions under which certain objectives are met and not met. Methods of robust decision and risk analysis also have much to offer in this respect. Another known source of uncertainty is errors in the data. The paper advocates more attention to understanding one's data and the signals therein before embarking on any modelling. It also proposes complementary uses of empirical modelling when warranted by the problem context.