2018 | OriginalPaper | Buchkapitel
Uncover and Assess Rule Adherence Based on Decisions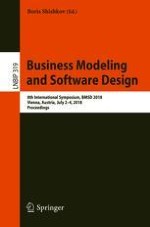 Erstes Kapitel lesen
Autoren: Johan Silvander, Mikael Svahnberg
Abstract
Context: Decisions taken by medical practitioners may be based on explicit and implicit rules. By uncovering these rules, a medical practitioner may have the possibility to explain its decisions in a better way, both to itself and to the person which the decision is affecting.
Objective: We investigate if it is possible for a machine learning pipe-line to uncover rules used by medical practitioners, when they decide if a patient could be operated or not. The uncovered rules should have a linguistic meaning.
Method: We are evaluating two different algorithms, one of them is developed by us and named "The membership detection algorithm". The evaluation is done with the help of real-world data provided by a hospital.
Results: The membership detection algorithm has significantly better relevance measure, compared to the second algorithm.
Conclusion: A machine learning pipe-line, based on our algorithm, makes it possibility to give the medical practitioners an understanding, or to question, how decisions have been taken. With the help of the uncovered fuzzy decision algorithm it is possible to test suggested changes to the feature limits.