2015 | OriginalPaper | Buchkapitel
Under what Conditions does Trust Make a Consumer Re-Patronice or Even Stay Loyal to an E-Retailer?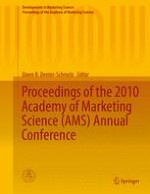 Erstes Kapitel lesen
Autoren: Cuiping Chen, Matthew O'Brien, Lin Guo
Trust is regarded as salient in the consumer and e-retailer exchange relationships because there are high risks involved in transactions with an e-retailer and online consumer and e-retailer depend on each other to realize their respective interests (Chen and O'Brien 2005). Literature review of current online B2C trust studies indicates that they still reflect the early mentality of doing business online which, in essence, is driven by discrete transactions (Urban, Amyx, and Lorenzon 2009). Guided by the old mentality, online retailers were fighting for hits, click-throughs, eyeballs, number of visitors, number of shoppers, and pure purchase volume (Bain & Company/Mainspring 2000; Reichheld, Markey, and Hopton 2000). With marketing strategies for e-retailers switching to retaining customers, studies are needed to investigate how trust in an e-retailer impacts the consumer's decision to remain with or be loyal to the e-retailer (constructs closely related to customer retention). In addition, in trust literature, few studies have examined the factors that moderate the effect of trust on its outcome variables. To the researcher's knowledge, no study has yet empirically tested the moderators of the effect of trust.