2014 | OriginalPaper | Buchkapitel
4. Understanding Cancer at the Genomic Level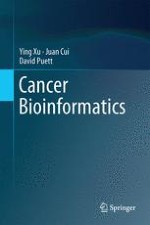 Erstes Kapitel lesen
Autoren: Ying Xu, Juan Cui, David Puett
Verlag: Springer New York
Abstract
According to mainstream thinking in the past three decades,
cancer is a disease of the genome
. That is, cancer evolves from benign to malignant lesions by accumulating a series of genetic mutations over time. This model was initially developed for colorectal cancers based on mutations in the
APC
gene (Fearon and Vogelstein 1990) and a few other recurring genomic mutations that have been observed in colorectal cancers. To drive the genetic basis of this and other cancers, extensive collaborative efforts have been established to sequence the genomes of numerous cancer types, predominantly solid tumors. This undertaking has led to the public availability of thousands of cancer genomes and the identification of myriad genomic mutations, including single-point mutations, copy-number changes and genomic rearrangements. Analyses of the sequenced genomes have observed that a cancer genome may harbor tens to a few tens of thousands of mutations across different cancer types. One somewhat surprising observation has been that cancer genomes tend to have a high degree of heterogeneity in terms of their mutation patterns among tissue samples of the same cancer type, even among different cells in the same cancer tissue (Xu et al. 2012). From this, an obvious question is:
Which of the observed mutations contribute to the initiation and development of a sporadic cancer
,
and how
? Or, from another perspective,
are any of these mutations responsible for tumor initiation, progression and metastasis
?