2014 | OriginalPaper | Buchkapitel
10. Understanding Cancer Invasion and Metastasis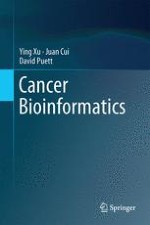 Erstes Kapitel lesen
Autoren: Ying Xu, Juan Cui, David Puett
Verlag: Springer New York
Abstract
Cancer is a deadly disease in large part because, if not stopped, will generally evolve to the metastatic stage, i.e., cancer cells spread from the primary site to new locations (generally different organs) through blood circulation or the lymphatic system. For largely unknown reasons, metastatic cancers tend to exhibit distinct growth patterns from its primary cancer counterpart, growing substantially faster and metastasizing more easily. Recent statistics show that metastatic cancer is responsible for approximately 90 % of all cancer-related mortalities. While it is known to be the deadliest stage of a cancer, the current understanding of the biology of metastatic cancer is rather limited. Some of the very basic questions such as:
what drives a primary cancer to metastasize
;
why some cancers tend to metastasize more easily than the other cancers, e.g., melanoma versus basal cell carcinoma
; and
why metastatic cancers tend to grow much faster than the corresponding primary cancer
, still have no clear answers. This may be the result of: (1) the true challenging nature of these questions, and (2) the lack of adequate investment and hence efforts into metastatic cancer research. This unfortunate reality is probably due to the general belief in the field that little can be done once a cancer has metastasized.