2017 | OriginalPaper | Buchkapitel
Understanding Climate Change Adaptation Needs and Practices of Households in Southeast Asia: Lessons from Five Years of Research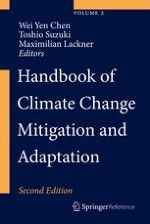 Erstes Kapitel lesen
Autoren: Herminia A. Francisco, Noor Aini Zakaria
Abstract
This chapter reports the main findings of research projects supported by the Economy and Environment Program for Southeast Asia (EEPSEA) over the last 5 years (2009–2013). The research projects reported focus on adaptation needs, climate change impacts, and the economics of adaptation projects as well as on efforts to link researchers with local government planners to enhance science-based adaptation planning. The lessons derived from these micro-level EEPSEA studies are important because the impacts and adaptation solutions reported are often local, as they are carried out by households, communities, and local governments. Hence, these studies help in understanding how various groups are affected by climate change and what limits their adaptation choices, which are important in designing ways to increase their resilience to climate change.
Field-level assessment of impacts showed that extreme climate events (i.e., super typhoons and associated flooding) cost households more than a third of their annual household income per event. As future extreme climate events are expected to be more frequent and intense, future damage may be even bigger and will most likely drive vulnerable households toward extreme poverty. Household adaptation actions in the various study sites are generally very crude and mostly reactive (e.g., strengthening housing units, using sandbags during flooding, storing of food, evacuation) rather than preventive (e.g., relocation, building multistorey and stronger housing units). This is largely explained by the limited resources available to most vulnerable households for investment in stronger adaptation measures.
The studies also show that strengthening community ties can increase household and community resilience. It also increases the efficacy of using communities as vital conduits of climate information dissemination. Moreover, results indicate that climate communication policies and interventions should go beyond informing people of climate hazard risks; they should also provide information that would allow people to assess their capabilities as well as permit technical assessments of various adaptation options.
Local governments need support in adaptation planning. The two action research projects carried out with funding support from EEPSEA and collaborating organizations showed that local government officials are receptive to such research collaborations and are very much willing to learn from science-based adaptation planning. Research to identify efficient or cost-effective adaptation options was highly appreciated by local government units. They need support to seek climate financing for these adaptation programs however.