14.02.2019 | Review Paper | Ausgabe 5/2019 Open Access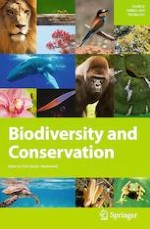 Understanding the effects of biotic and abiotic factors on sources of aquatic environmental DNA
Zeitschrift:
Autor:

Kathryn A. Stewart
Wichtige Hinweise
Communicated by Angus Jackson.
Electronic supplementary material
Publisher's Note
Springer Nature remains neutral with regard to jurisdictional claims in published maps and institutional affiliations.
Abstract
Analysis of environmental DNA (eDNA) offers an unprecedented ability to accurately survey biodiversity from aquatic ecosystems. Although eDNA methods have been applied to myriad taxa, scientists are now moving away from proof-of-concept work, ultimately evaluating the limits and opportunities of this technology to detect and quantify abundance across organisms and environments. Important considerations enabling such methodology to be used for aquatic conservation contexts includes understanding both the effects of (1) the amount of eDNA released from focal taxa—sources, and (2) the removal of eDNA in the environment—sinks. I review publications on aquatic macroorganism eDNA that have evaluated or considered the effect of sources on signal detection (or quantification) and find few studies acknowledge, and fewer still evaluate, the impact of eDNA production on genomic signal recovery. In this review, I encourage readers to carefully consider source dynamics, and using previously published literature, dissect what roles biotic (e.g. life-history traits, species interactions including stressors) and abiotic (e.g. temperature, salinity) factors likely play in eDNA deposition and recovery, and how this impacts detection, abundance, biomass estimation, and ultimately informed signal interpretation. I further explore the physical sources of eDNA and propose other methods (spatial and temporal) and markers to assist in identifying eDNA origins in aquatic systems. Understanding how these parameters influence variation in eDNA sources will allow for a more comprehensive survey tool, and potentially give insights into environment-population responses.