2015 | OriginalPaper | Buchkapitel
4. Understanding the Resilience of Mobile Cloud Services to Malware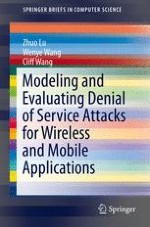 Erstes Kapitel lesen
Autoren: Zhuo Lu, Wenye Wang, Cliff Wang
Abstract
In this chapter, we aim to measure the resilience of mobile cloud services to malware. Since the cloud is intended to provide real-time services to mobile users, we introduce a new metric,
resilience factor
, to denote the maximally allowable percentage of malware-infected nodes in the network such that a required ratio of cloud service requests can still be processed on time. We find that for mobile cloud services, there exists a cutoff point on network bandwidth
B
, below which the resilience factor is an
increasing
function of
B
, and beyond which the resilience factor
decreases
on the order of 1∕
B
. Such a dichotomy demonstrates another perspective on developing network infrastructures for mobile cloud computing: although low bandwidth in current cellular networks is viewed as a primary drawback to support mobile cloud services, increasing bandwidth can, on the other hand, jeopardize malware resilience. In addition, we show via experiments that in malware epidemics, if
B
is less than the cutoff point, service quality is deteriorated mainly by network congestion (especially at mobility hotspots), thereby leading to heterogeneous malware resilience across the network; if
B
is larger than the cutoff point, malware-induced cloud overload becomes the performance bottleneck that can result in global service degradation. Our results encourage deployment of countermeasures in both the network and cloud to effectively defend against malware attacks.