2010 | OriginalPaper | Buchkapitel
Unicompartmental Knee Arthroplasty (UKA): Effects of Component Placement on Joint Mechanics Studied with a Mathematical Model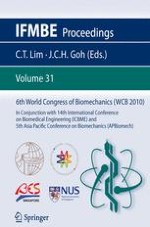 Erstes Kapitel lesen
Autor: A. Imran
Verlag: Springer Berlin Heidelberg
Modern technology with new approaches in knee replacement surgery has the potential to improve recovery and influence functional outcome. However, such techniques can be technically demanding with the possibility of less satisfactory results. Hence, there is a need to investigate the effects of such techniques on the resulting joint mechanics. The present study analyzes the effects of component placement on mechanics of the replaced knee. A sagittal plane mathematical model of the joint with intact ligaments and congruous surfaces was used as in UKA.
The model was defined at full extension using anatomical data for bony attachments of ligaments, tendons and shapes of bones. Geometries of prosthetic components were taken similar to those in literature. The model ligaments represented as bundles of elastic fibers stretched when extended. Net muscle forces shown along straight lines changed their position and orientation during motion.
Appropriate position and orientation of the prosthetic components on the bones was defined taking implantation guidelines and ensuring that selected cruciate ligament fibers remained nearly isometric during motion while no other fiber stretched. This defined the passive motion of the joint. The effects of mal-placement or in-appropriately sized components were then superimposed. An Anterior/posterior (A/P) laxity test was simulated.
As examples of results, during 0-90° passive flexion, the femur rotated as well as translated posteriorly by 8.2 mm on the tibia, while the patellar tendon changed its orientation by 27°, directing anteriorly for 0-68° flexion and posteriorly thereafter. Component mal-placement or in-appropriate size resulted in either stretched or slack ligaments, influenced relative positions of bones, and affected joint laxity during the simulated laxity test. The results from the model calculations show general agreement with experimental/clinical observations in literature. Computer graphics based interface is developed for visual analysis.