01.02.2020 | Ausgabe 2/2020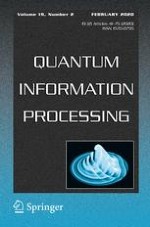 Unidimensional continuous-variable measurement-device-independent quantum key distribution
Zeitschrift:
Autoren:

Dongyun Bai, Peng Huang, Yiqun Zhu, Hongxin Ma, Tailong Xiao, Tao Wang, Guihua Zeng
Wichtige Hinweise
Publisher's Note
Springer Nature remains neutral with regard to jurisdictional claims in published maps and institutional affiliations.
Abstract
Continuous-variable (CV) measurement-device-independent (MDI) quantum key distribution (QKD) is immune to imperfect detection devices, which can eliminate all kinds of attacks on practical detectors. Here we first propose a CV-MDI QKD scheme using unidimensional modulation (UD) in general phase-sensitive channels. The UD CV-MDI QKD protocol is implemented with the Gaussian modulation of a single quadrature of the coherent states prepared by two legitimate senders, aiming to simplify the implementation compared with the standard, symmetrically Gaussian-modulated CV-MDI QKD protocol. Our scheme reduces the complexity of the system since it ignores the requirement in one of the quadrature modulations as well as the corresponding parameter estimations. The security of our proposed scheme is analyzed against collective attacks, and the finite-size analysis under realistic conditions is taken into account. UD CV-MDI QKD shows a comparable performance to that of its symmetric counterpart, which will facilitate the simplification and practical implementation of the CV-MDI QKD protocols.