05.02.2018 | Original Paper: Fundamentals of sol-gel and hybrid materials processing | Ausgabe 3/2018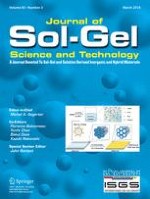 Uniform formation of mesoporous silica shell on micron-sized cores in the presence of hydrocarbon used as a swelling agent
Zeitschrift:
Autoren:

Haruyuki Ishii, Mitsunobu Nara, Yuri Hashimoto, Arata Kanno, Shunho Ishikawa, Daisuke Nagao, Mikio Konno
Wichtige Hinweise
Highlights:
Coating of micron-sized silica cores with uniform mesoporous silica shell

A web-like surface feature on the silica cores observed during the silica-coating

Cyclohexane used as a low-molecular-weight swelling agent to expand pores
Electronic supplementary material
Abstract
Hydrolysis and condensation of tetraethyl orthosilicate (TEOS) with cetyltrimethylammonium bromide (CTAB) used as a template for mesopores were conducted to form mesoporous silica shell onto micron-sized silica spheres with low polydispersity. The concentration of TEOS suitable for uniform formation of the mesoporous shell was examined in the reactions in the presence or absence of nonpolar hydrocarbon that was used as a swelling agent to expand the size of CTAB micelles. Employment of cyclohexane (CyH) with a molecular weight lower than a conventional swelling agent of 1,3,5-trimethylbenzene could effectively expand mesopores in the shell uniformly covering the micron-sized spheres. SEM images of the core-shell particles in the sol–gel reaction reveled that a web-like surface feature on the core was observed in an early stage of shell formation, whereas uniform mesoporous shell was finally obtained on the core. The extension of mixing time for the swelling agent of CyH to be diffused into CTAB micelles resulted in an increase in uniformity in thickness of the mesoporous shell with the large sizes of mesopores.
×