2017 | OriginalPaper | Buchkapitel
UNISDR Global Assessment Report - Current and Emerging Data and Compute Challenges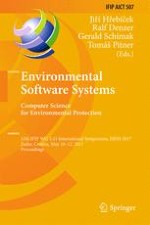 Erstes Kapitel lesen
Autoren: Nils gentschen Felde, Mabel Cristina Marulanda Fraume, Matti Heikkurinen, Dieter Kranzlmüller, Julio Serje
Abstract
This paper discusses the data and compute challenges of the global collaboration producing the UNISDR Global Assessment Report on Disaster Risk Reduction. The assessment produces estimates – such as the "Probable Maximum Loss" – of the annual disaster losses due to natural hazards. The data is produced by multi-disciplinary teams in different organisations and countries that need to manage their compute and data challenges in a coherent and consistent manner.
The compute challenge can be broken down into two phases: hazard modelling and loss calculation. The modelling is based on production of datasets describing flood, earthquake, storm etc. scenarios, typically thousands or tens of thousands scenarios per country. Transferring these datasets for the loss calculation presents a challenge – already at the current resolution used in the simulations. The loss calculation analyses the likely impact of these scenarios based on the location of the population and assets, and the risk reduction mechanisms (such as early warning systems or zoning regulations) in place. As the loss calculation is the final stage in the production of the assessment report, the algorithms were optimised to minimise risks of delays. This also paves the way for a more dynamic assessment approach, allowing refining national or regional analysis "on demand".
The most obvious driver of the future compute and data challenges will be the increased spatial resolution of the assessment that is needed to more accurately reflect the impact of natural disasters. However, the changes in the production model mentioned above and changing policy frameworks will also play a role. In parallel to these developments, aligning the current community engagement approaches (such as the open data portal) with the internal data management practices holds considerable promise for further improvements.