2013 | OriginalPaper | Buchkapitel
United States Meteorological Satellite Program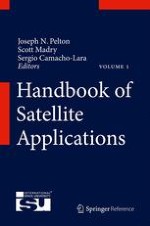 Erstes Kapitel lesen
Autoren: Dr. Sergio Camacho-Lara, Dr. Scott Madry, Dr. Joseph N. Pelton
Verlag: Springer New York
Abstract
Over the past half century, weather and sophisticated environmental imaging satellites have evolved providing an increasing ability to monitor a wide range of conditions on Earth. A long-term and effective partnership between the National Aeronautics and Space Administration, the United States space agency, NASA, and the National Oceanic and Atmospheric Administration, NOAA, has worked to design, launch, and operate a series of environmental monitoring satellites. These environmental monitoring satellites have grown in their technical capabilities to monitor cloud coverage, temperature, and wind velocity over the oceans and seas, lightning intensity, and storm formations. Interactive capabilities have for some time allowed these satellites to assist with search and rescue activities. In short, the expanded technical capabilities of these satellites, and particularly of the Geostationary Operational Environmental Satellite system, have allowed the development of an ever increasing range of applications and functionality.
The initial United States meteorological or weather satellite program that began with TIROS created a specific type of remote sensing satellite that could assist in monitoring weather conditions for the continental US. Today's GOES and Polar-Orbiting Environmental Satellites (POES) have now grown to become global in scope. These US satellites allow the development of an increasingly wide range of knowledge of the oceans and the Polar region, allow for more accurate mathematical models of meteorological conditions, help to monitor "space weather" conditions, assist with rescue of distressed ships and aircraft, aid transportation systems, and help with monitoring atmospheric pollution and conditions associated with climate change.
The National Ocean and Atmospheric Administration, through its National Environmental Satellite, Data, and Information Service (NESDIS), continuously operates a global network of satellites to achieve these goals. NOAA works closely with NASA in the design of environmental satellites and cooperates with the US Department of Defense in obtaining and distributing environmental information. Data obtained from US environmental spacecraft as well as from other spacecraft around the world are used for a wide range of applications. Currently these applications relate to the oceans and seas, coastal regions, agriculture and resource recovery, detection of forest fires, detection of volcanic ash, monitoring the ozone hole over the South Pole, and even the space environment in terms of the so-called space weather such as solar flares.
Each day NOAA's NESDIS processes and then distributes more than 3.5 billion bits of data. The processed images are distributed to weather forecasters in the United States and globally so that various users, for instance, disaster managers, and the general public can see weather patterns via television or on computer or smart phone displays. The timeliness and quality of the combined polar and geostationary satellite data have been greatly improved by enhanced computer installations, upgraded ground facilities, and international data sharing agreements as well as by military weather services.