2017 | OriginalPaper | Buchkapitel
University-Business Research Collaboration in Syria: An Empirical Assessment and Suggested Conceptual Model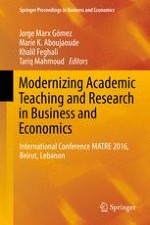 Erstes Kapitel lesen
Autoren: Alaa Salhani, Victoria Khnouf
Abstract
University-business research collaboration is an increasingly important innovation model (Johnson J.
Minister of state for universities and science in UK. The dowling review of business-university research collaborations in UK
, 2015). This study examines the research collaboration between universities and business sector in Syria, which is based on two different questionnaires, the first one is conceived for faculty members, and the second one is for the business sector. This study concludes that research which is conducted by faculty members and students in Syria does not significantly matching with the problems and the needs of business, also it shows that there is no significant difference between private and public universities in the above said domain, as well as between the social sciences and applied sciences faculties. Moreover, many faculty members are not so encouraged to achieve research for main reasons; poor income, no program to be invested within the research outcomes. In addition, Syrian business sector does not provide data easily and funding for most researchers. On the other hand, most of Syrian businesses do not benefit from research of Syrian universities, but they benefit more from foreign researches. This is due to the lack of trust with the ability of faculty members dealing and recommending adequate solution to businesses problems, they have no clue about the nature of research in the Syrian universities; in addition they consider the cooperation with universities as costly. However, most of the Syrian business sector is ready to participate into joint research programs with Syrian universities if it is financially supported. By considering the result, this research's aim is to suggest a new triple collaboration model that link Chambers, Universities and Business together through three interrelated elements ("Business collaboration case studies". University of Southampton, 2016). This will match the gap between universities research and the Syrian business sector needs, then advancing knowledge base, enhancing the relevance of research programs, accelerating the application of innovation within the economy as well as contributing effectively and efficiently in the reconstruction phase of Syria.