01.12.2009 | Original Contribution | Ausgabe 12/2009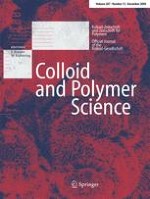 Unusual behavior in light scattering experiments of poly(
N

-vinylimidazole) prepared by precipitation polymerization
Zeitschrift:
Autoren:

Mika Masaki, Kazuyoshi Ogawa, Etsuo Kokufuta
Abstract
Poly(
N
-vinylimidazole) (PVI) was synthesized by the precipitation polymerization using 2,2'-azobis(isobutyronitrile) (AIBN; initiator) and benzene (solvent) at two different monomer/initiator ratios. The solution polymerization was also performed with the following initiator/solvent systems: AIBN/water–methanol mixture (1:1 by volume) and 4,4'-azobis(4-cyanovaleric acid)/aqueous HCl solution (pH 0.8). All the four preparations of PVI in ethanol and in 0.2 M NaCl (pH 3 with HCl) were examined by dynamic light scattering (DLS). The CONTIN analysis of DLS data for each preparation from the solution polymerization showed a unimodal distribution in both ethanol and aqueous solvents. A good agreement was obtained between the molar masses in these different solvents by static light scattering (SLS). However, the polymers from the precipitation polymerization exhibited a heterogeneous bimodal distribution in DLS under the same conditions as above, indicating that the SLS data as in reference [
6
] (Savin et al. Macromolecules 37:6565) cause a serious error in the understanding of solution behavior of PVI.