01.10.2016 | Sonderheft 2/2016 Open Access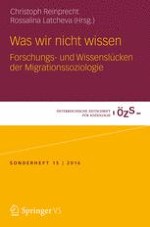 Unveiling what should remain hidden: ethics and politics of researching marginal people
Zeitschrift:
Autor:

Michal Ruzicka
Abstract
The article is a reflection on ethnographic research conducted with poor Roma ("Gypsy") families under post-socialism, Europe's marginal people par excellence. Living on the periphery of the dominant socio-economic systems, marginal people often exploit precarious resources by means of informal strategies and tactics in an effort to secure their subsistence on a day-to-day basis. The craft of becoming invisible as well as remaining hidden from the gaze of the State apparatus thus might be a key ingredient of living under conditions of limited resources and opportunities. The article is a story of how the author attempted to solve the moral dilemma of what to do with data that are essentially important for understanding social reality, yet at the same time have been meant to remain hidden, never uncovered and never made public to outsiders. The author shows how understanding "the interior" – the subjectivity of marginal people who have severely limited access to resources and social recognition – is never fully possible without understanding the role which "the exterior" plays in shaping its conditions of possibility. The author argues that in order to grasp the subjectivity of marginal people, one first needs to make out the socio-historical conditions that shape the subjectivities of marginal people. Moreover, one needs to recognize the crucial role which the State plays in shaping the larger socio-historical framework that (re)produces their conditions. The moral and ethical dilemma of what to do with research that
unveils what should remain hidden
thus could be reconceptualized as the primarily political problem of facing the fundamentally unequal relationship between the State and its marginalized subjects and choosing a morally acceptable political position.