2017 | OriginalPaper | Buchkapitel
Update of World Geothermal Development (2013)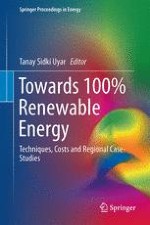 Erstes Kapitel lesen
Autor: Colin C. Harvey
Abstract
The World is currently experiencing accelerated development of renewable, sustainable, high-temperature geothermal resources. This interest is driven by numerous factors including the ever increasing prices of fossil fuels; the sometime non-availability of oil and gas; readily developable hydro resources being already harnessed in many countries; rising environmental constraints; the World's gradual acceptance of climate change and the need to mitigate it. Most recently the heightened concern regarding risk and safety issues of nuclear power generation has led to greater international interest in renewable technologies including geothermal in Germany and Japan.
Improved geothermal technologies along with high success rates in drilling have effectively lowered risk and reduced overall costs for geothermal development. The World's installed geothermal generation passed 10,000 MWe in 2009 and is now moving rapidly towards 12,000 MWe.
The majority of the World's geothermal resources are located adjacent to subduction zones at crustal plate boundaries with Pacific Rim countries contributing six of the top eight generating countries. There is current interest in exploiting elevated thermal gradient in Africa's rift valley while there also is renewed interest in exploiting geothermal resources above mantle plumes at the so-called mantle hot spots based on the successful developments in Iceland and Hawaii.
The most rapid increase In generation in the past 3 years has been in New Zealand where geothermal contributes 13–15 % of base-load generation and geothermal is the preferred, most cost-effective and renewable option (compared to gas, new hydro, and wind). The chapter includes statistical data on drilling and updates on new technologies including combined development of hybrid generation plants (geothermal in combination with other renewable technologies.