01.08.2014 | Ausgabe 1/2014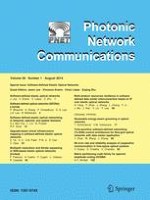 Upgrade-aware virtual infrastructure mapping in software-defined elastic optical networks
Zeitschrift:
Autoren:

Zilong Ye, Xu Li, Ankitkumar N. Patel, Philip N. Ji, Xiaojun Cao, Chunming Qiao
Abstract
An emerging use case in
software-defined networking
is to provide efficient mapping of multiple
virtual infrastructures
(VIs) simultaneously over the same
physical substrate
(PS) which can increase the resource utilization of the PS, thus improving its provider's revenue. In this paper, for the first time, we investigate a practical and yet theoretically challenging issue related to dynamic VI mapping in
software-defined elastic optical networks
while considering the presence of possible upgrade of the VIs and the optical layer constraints, which has not been addressed in any of the existing studies. More specifically, we investigate the following aspects: (1) Which revenue models are appropriate? (2) How to map a new VI request or to upgrade an existing VI to maximize the PS providers revenue? In particular, we study two different revenue models in terms of the
incremental pricing policy
and the
binding pricing policy
and propose a number of efficient heuristics to solve the
upgrade-aware VI mapping
(U-VIM) problem. We also perform comprehensive performance evaluation in different scenario, and the results show that plan-ahead is a desirable strategy when conducting VI mapping in the presence of VI upgrade.